SPECIAL OFFER - 240 SPECIMENS - US POSTAGE PAID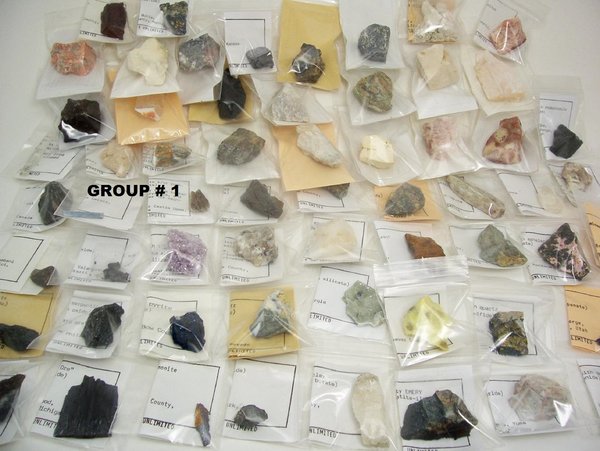 SPECIAL OFFER - 240 SPECIMENS - US POSTAGE PAID
SPECIAL OFFER - 240 ROCKS, MINERALS, AND FOSSILS FOR STUDY AND COMPARISON USES. US POSTAGE PAID.
SIZES: Random sizes ranging from about 1/2 inch/12mm to about 1x1-1/4 inch/2.5x3cm, unless otherwise noted. Starred (*) items are chips, sands, fibers, etc., packaged in plastic bags. The fossils and crystals range from about 1/4 inch/6mm to about 1/2 inch/12mm.
LABELS: Each specimen is packaged in a re-closable plastic bag with a label that includes the name of the mineral, the locality it was found, the composition (chemical formula), and lists any major associated minerals. The rock labels include the classification (igneous, sedimentary, metamorphic) rather than the chemical formula. The fossils list the geologic age when known.

THIS OFFER GENERALLY TAKES 3 WEEKS TO PREPARE! NO RUSH ORDERS!

GROUP #1 - Minerals of Economic Interest - 60 specimens:
Bauxite Colemanite Talc Spodumene Vanadinite Goethite Covellite Braunite Chromite Magnetite Beryl Collophane Polyhalite Cinnabar Willemite Bornite Fluorite Magnesite Emery Chalcopyrite Hausmannite Corundum Brucite Azurite Hematite Scheelite Barite Feitknechtite Tetrahedrite Celestine *Rutile Sulfur Limonite *Bentonite Pyrite Rhodochrosite Arsenopyrite Andalusite Cuprite Alunite Stibnite Diatomite Halite Oolitic Hematite Skutterudite Pyrolusite Tripoli *Kernite Lepidolite Sphalerite Galena Gypsum (satin spar type) Wollastonite Garnierite Kyanite Calcite Enargite Quartz Chalcocite 1/4 inch Columbite

GROUP #2 - GEMS & MINERALS (NOT FOR CUTTING: STUDY GRADE!) - 60 SPECIMENS
Wavellite Forsterite/Olivine Aventurine Barite "rose" form Variscite Opal Descloizite Alabaster Rose Quartz Franklinite Carrara "Marble" Emerald Chalk Piemontite 1/4 inch Moonstone Wonderstone Hydrozincite Nephrite Ganiobasis Agate Lawsonite Andradite Agate Romanechite Smoky Quartz Siderite Orbicular Felsite Prase Hydromagnesite *Turquoise Apophyllite Blue Calcite Indian Moss Agate Selenite Citrine Purpurite Grossular Stibiconite Pyrophyllite Snowflake/flowering Obsidian Sunstone Ulexite Chrysocolla 1/4 inch Amber Honey Onyx Manganaxinite Pisolitic Limestone Jarosite Rhodonite Vesuvianite 1/4 inch Peridot Spessartine Amethyst *Sapphire sand Melanite Mizzonite-Scapolite Dumortierite "Fancy" Jasper Red Jasper Petrified Wood Limonite pseudomorph

GROUP #3 - ROCKS & ROCK - FORMING MINERALS - 60 SPECIMENS
Black Obsidian Tuff Anhydrite *Kaolinite Greenstone Basalt Okenite Quartzite Nepheline Syenite Tufa Anorthite Geyserite Serpentinite Gabbro Biotite Glauconite Black Tourmaline/Schorl Shale Nepheline Omphacite Hypersthene Marble Andesite Oligoclase Enstatite Hornblende Schist Slate Greywacke Sandstone Hedenbergite Augite Diopside Microcline Radiolarian Chert Flint Limestone Cummingtonite Gneiss Rhyolite Travertine Barkevikite Syenite Chert Muscovite Almandine Glaucophane Jasper Breccia Pumice Sodalite Mica Schist Albite Anthracite coal Novaculite Phlogopite Epidote Dolomite Actinolite Hornblende *Adobe Diorite Granite
GROUP #4 - ROCKS, MINERALS, CRYSTALS & FOSSILS - 60 SPECIMENS
(Crystal is abbreviated as "xl")
Sanidine Trachyte Bryozoa Gedrite Concretion Fossilized Coral Zircon - xl portion Olivenite Scoria Natrolite Ruby (Corundum) - xl Hanksite - xl portion *Dune sand Caliche Oil Shale Rock Crystal Quartz Chalcedony Barite - nodule portion Heulandite Diabase Gilsonite Hustedia (Brachiopod) *Hexahydrite (Epsomite) Coquina Garnet - xl Orthoclase - xl portion Arsenic Gryphaea (Pelecypod) Hemimorphite Shark tooth fossil *Coquimbite *Sylvite Tourmaline - xl portion Phyllite Danburite - xl portion Stilpnomelane Blue Barite - xl portion Mucrospirifer (Brachiopod) Crinoid stem fossil Topaz - xl Conglomerate Admetopsis (Gastropod) Liparite Chondrodite Ostrea (Pelecypod) Calcite (satin spar type) Rhynchonella (Brachiopod) Star Crinoid fossil Chlorite Clinozoisite - xl portion Fossilized Dinosaur Bone Stilbite Sulphohalite - xl portion Oil Sandstone Peperino Obsidian - "Apache tear" *Brazilianite - xl fragments Pirssonite - xl 1/4 inch Aeschynite-(Y) *Ilsemannite with jordisite
SUBSTITUTIONS: We reserve the right to make substitutions if necessary. This has rarely happened in the past.
OUT OF US: Please contact us for shipping costs.
To order 50 specimens for $60.00, or 100 specimens $100.00 - contact us with an email listing your choices from the above 240 species listed. We will then send a PayPal invoice for payment.
Reviews