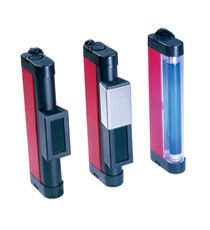 Mini UV Lamps
MINI UV LAMPS
Mini four-watt UV lamps are battery operated and are excellent as a portable lamp for field use. Photo shows UVG-4, UVSL-14P, and UVL-4 lamps (left to right). Models include longwave, shortwave, and longwave/shortwave combination. They are manufactured of impact-resistant plastic which resists fading or cracking. Lamps are small enough to fit in a pocket, and a nylon strap is attached for easy carrying. The UVSL-14P includes a slider plate for selecting either the longwave or shortwave.
4 AA BATTERIES (Not included.)
Dimensions: UVG-4, UVSL-14P, UVL-4: 6.25L x 1W x 2.2D in. (159 x 25 x 56mm). UVL-4F: 7.9L x 2W x 1.25D in. (201 x 51 x 32mm)
If you need to order larger quantities, contact us for price and availability.


Reviews