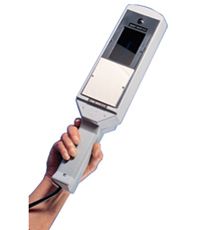 Handheld UV Lamps
Hand held UV lamps are light weight for easy handling, with a durable plastic housing.

Six Watts. Models available with shortwave, longwave UV or a combination shortwave/longwave version. Combination shortwave/longwave version comes with a snap-on wave length selector for switching between wavelengths.

Dimensions: Handheld Lamps: 14.9L x 3.2W x 2.5H in.(378 x 81 x 64mm) Lamp Stand: 9.75H x 13L in. (237 x 330mm)
Use these lamps with the J-129 Lamp Stand for hands free operation. Use these lamps the C-10 Cabinet for fluorescing and viewing materials in a darkened environment UV blocking eyewear available.

Reviews