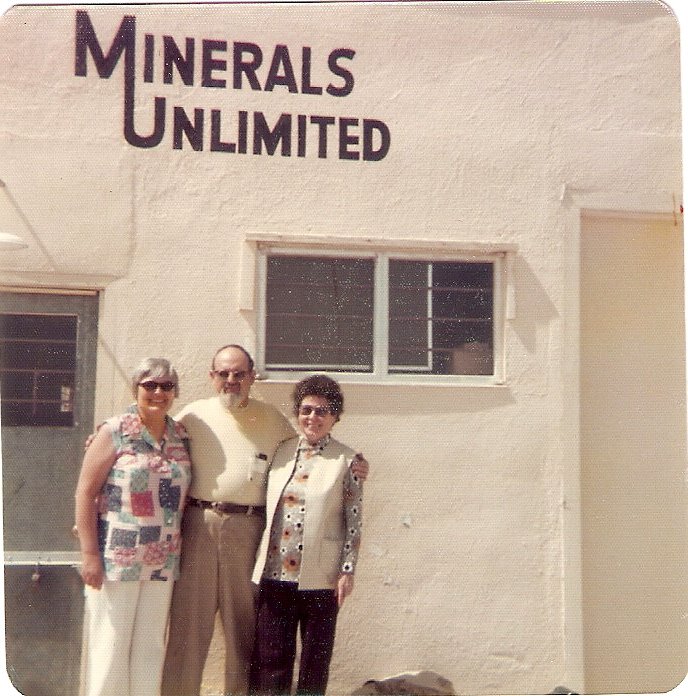 About Us
Welcome,
Minerals Unlimited was begun in a back storage room in 1948 by two married couples, Dave and Irene Grigsby, and Scott and Mimi Williams. Dave and Scott had recently graduated from UC Berkeley, and both were avid mineral collectors, with houses overrun with boxes and shelves of minerals. Almost as a whim, they decided to start a mineral business (What are we going to do with all of these rocks?) at the time when there were no other businesses of this type on the northwest coast.
In 1953 Ralph E. Merrill was hired by the partners, and bought out their shares in 1954 and 1955. Scott and Mimi had divorced, and Mimi and Ralph eventually married. They each had children before that, and then had two more in 1956 (Wendi/Ace) and 1957. Ralph's main interest was more in the rare species, rather than just in showy specimens, so that was the direction he turned the business as time went on. At one time or another all seven of their children have worked as employees for the firm, as well as Ralph's sister and her children, but eventually all except Wendi (aka Ace) found careers in other fields. Ralph worked continuously at the shop until his death in November of 2001, at nearly 84 years old, making Minerals Unlimited a landmark in the mineral world.
The business was started in Berkeley, California, but eventually the property that it was located on was purchased by the city for a renovation project. The business was moved to our current location in the California desert at 127 N. Downs St. in Ridgecrest in 1970. Five train boxcars and two moving vans were used to move over 100 tons of specimens!
Our stock of minerals has been obtained in a number of different ways. Some was personally collected by each of the successive owners, as well as by occasional employees. Some was traded for, some purchased from other businesses, as well as from individuals who sold minerals, and some came from a number of personal collections. Much of the stock was acquired early on, and in recent years we have only added newly described species to our stock.
I am Wendi "Ace" Elkins!, and I have worked at Minerals Unlimited since I was eight years old, going onto the payroll officially when I was 16, and I have been here almost all of the time since then. I took a year off when I was 19 to work for Si and Ann Frazier, who started a split-off business from Minerals Unlimited in about 1960, when Ralph and Mimi got out of the lapidary aspect of the field. As of January 1st 2003 I am the sole owner of Minerals Unlimited.  I have added a gift shop to the store, and use many of our specimens in my jewelry as a creative outlet.
The picture above is my parents, and my father's sister, Zella Bosma (she's on the left) in front of the shop. I think this was in the early 1970's. The pictures below are my father in the back yard of the shop, and one from when he was in college, I think.  I will look for more pictures to add in the future!

Mimi worked at Minerals Unlimited steadily until the mid-1970's when she went back to college and eventually taught at California State University in Bakersfield for several years, retiring in 1994. She continued to assist the business with her writing skills for many years, while writing articles for our local newspapers, as well as poetry and personal journals.  She died in 2014 at the age of 88.
Our clientele is quite varied, we provide mineral specimens to collectors, schools and research companies. I look forward to supplying you with specimens, and to your comments.
I am mourning my husband, Dan Elkins! who died in December, 2018. After being a staple of my life for 35 years, he will be missed forever.

If you are interested in purchasing Minerals Unlimited, I am nearing the physical point of needing to consider retirement. Please, only contact me about buying with a serious offer.  However, this does NOT mean I will be closing the business! I seriously doubt the sale of the shop will be possible, so I will continue, happily running Minerals Unlimited for the rest of my life! Please don't tell anyone I'm closing, as this could severely affect my sales, when people assume I'm already gone.

Wendi